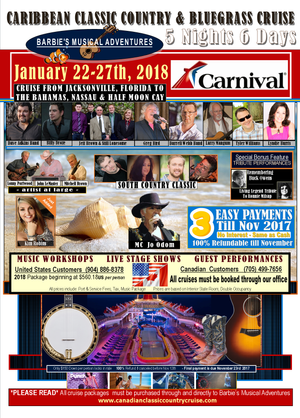 Another exciting addition to "Barbie's Musical Adventures" Caribbean Country Classic & Bluegrass Cruise in January 2018 has just been announced! You now have the opportunity to cruise with Kim Robins, a late addition to the lineup. Kim has deep roots in country music, opening for legends such as Loretta Lynn, Conway Twitty, Barbara Mandrell and The Oak Ridge Boys. She spent much of her youth meeting and greeting with her classic country idols due in part to her Father's interest and involvement in the music industry. 
Kim is thrilled to join the cruise, to have the opportunity to perform some of the classic country music she so deeply loves and looks forward to spending time with so many talented artists and guests on the trip. 
Please reach out to Kim on Facebook or through her website to get details on booking your cabin to cruise the Caribbean in January!