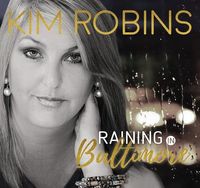 Kim Robins, 
Raining in Baltimore 
(Pinecastle, 2017) 
Kim Robins' debut Raining in Baltimore opens promisingly with an ominous folk-bluegrass ballad, Kim Fox's "Eye for an Eye." To my hearing it remains the strongest cut, but if what follow are more standard 'grass flavors, they're tasty ones. Robins' approach incorporates both traditional and contemporary. Naturally, my preference is for the former, and so I am pleased there's more of the former than of the latter. 
Even so, her country alto is distinctive and smartly employed even on otherwise slight pop fare (e.g., Donna Hughes's "A Dream"). At another high point Robins and bandmates turn in a deliriously swinging arrangement of Leroy Preston's often-covered "My Baby Thinks He's a Train." Her handling of Dolly Parton's "Sacred Memories" touches on gospel perfection. A big plus is the accompanying bluegrass supergroup, counting the likes of Ron Stewart, Adam Steffey, and Rickey Wasson. Stewart and Wasson also produce. 
Though starting late as new artists go (she's old enough to mention a granddaughter), Robins uses her adult perspective to full advantage on this, her first Pinecastle release. With her abundant talent and grown-up outlook, hers gives every indication of being a career bluegrass fans will want to follow.