Read full review at Roots Music Report or here.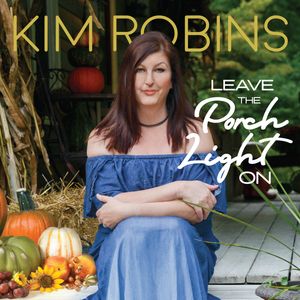 I recently caught bluegrass singer/songwriter/ guitarist Kim Robins (with her band, 40 Years Late) on a past episode of Tim White's "Song of the Mountains" television show, and I was very pleased to hear her second album on the Pinecastle label, Leave the Porch Light On, shortly afterwards. To date, the album has climbed as high as #19 on the weekly Roots Music Report's Top 50 Contemporary Bluegrass Album Chart. 
From Bloomington, Indiana, Kim Robins began singing at an early age, and her musical influences are Connie Smith, Loretta Lynn, Buck Owens, Ray Price, Bill Monroe, and Barbara Mandrell.  Robins postponed her music career for 40 years while she worked as a medical sales rep and raised her family. Rekindling a love of bluegrass, she self-released her 40 Years Late album in 2013 and began touring with her own band. In 2017, her first album on the Pinecastle label, Raining in Baltimore, helped her receive a second nomination for International Bluegrass Association's Momentum Female Vocalist of the Year Award. Robins' vocalizing has both emotional energy and sweetness of tone that makes it rather unique. 
For this project, co-produced by Clay Hess (who also plays guitar and banjo), Kim Robins surrounds herself with first-rate musicians Tim Crouch (fiddle), Duane Estep (mandolin), Brennan Hess (bass), and Josh Woods (banjo on one track). Songs come from the pens of songwriters like Mark "Brink" Brinkman, Paula Breedlove, Daniel Salyer, Rick Lang, Alan Johnston, Greg Preece and others. Standouts include "Hurricane," "Bourbon and Beer," "Leave the Porch Light On" and "I'll Always Be a Gambler." 
With a more understated, relaxed delivery, Kyle Estep's lead vocals are featured on four tracks, including "Can't Be Anything But Love" and "I'll Always Be a Gambler," and Clay Hess sings lead on "Wind in the Valley."  Throughout, and whether singing lead or harmony, heart-tugging warmth is found in Kim Robins' sturdy vocals as she presents contemporary material with a throwback approach to catch up on the last four decades, as well as provide hope and optimism for the years ahead. (Joe Ross, Roots Music Report)